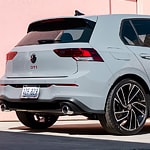 The 2022 Volkswagen Golf GTI Performance is packed with impressive features that make it a great choice for those looking for an exciting and reliable car. The vehicle's exterior has been redesigned, giving it a more aggressive look that emphasizes its sporty nature.
It is equipped with a 2.0-liter four-cylinder engine that is mated to a six-speed manual transmission, allowing quick and efficient acceleration. The vehicle includes a new sport suspension system that is designed to provide exceptional handling and grip in tight corners.
The electronically controlled limited-slip differential offers improved cornering and traction for more precise handling. This feature is designed to provide better control when turning at high speed, making the Golf GTI Performance an exceptional choice for winding roads or fast-track sessions.
The Golf GTI Performance also features performance brakes that enable it to stop quicker, providing extra control and confidence when driving. The brake-based torque vectoring system helps to reduce understeer and improve cornering capability.