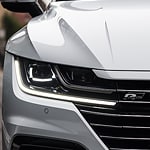 The Arteon's interior is designed to provide a comfortable and luxurious experience for drivers and passengers alike. Some of its key features include:
- A panoramic sunroof that lets in natural light and provides stunning views of the outside world
- A spacious and well-appointed cabin with plenty of head- and legroom for all passengers
- Premium materials and finishes throughout the cabin, including leather upholstery, wood trim, and metal accents
At 196.3 inches long, the Arteon has one of the largest cabins, providing plenty of space for people and cargo. It also has a generous trunk capacity of 18.9 cubic feet.
In terms of interior technology, the Arteon comes standard with a host of modern features, including:
- An 8-inch touchscreen infotainment system with Apple CarPlay and Android Auto compatibility
- A Wi-Fi hotspot that lets passengers connect their devices to the internet while on the go
- A blind spot monitor that helps drivers avoid accidents when changing lanes
- Adaptive cruise control that automatically maintains a safe distance from other vehicles on the road