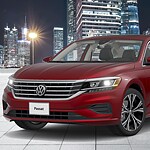 For drivers who want the latest in safety features, the 2022 Volkswagen Passat is a great choice. With a host of standard and available safety technologies, the Passat helps you stay protected on the road.
Some of Passat's safety offerings highlights include its Intelligent Crash Response System (ICRS). This system automatically shuts off the fuel pump, unlocks doors, and turns on the hazard lights in the event of a collision. The Passat also comes standard with an Automatic Post-Collision Braking System, which applies the brakes after a crash to help prevent secondary accidents.
Other available safety features include Blind Spot Monitor with Rear Traffic Alert, Adaptive Cruise Control, Lane Assist, and Parking Steering Assistant. With these cutting-edge technologies, the Passat is one of the safest cars on the road.
The Volkswagen Passat has a robust body structure that helps protect drivers and passengers in a collision. The car's frame is made of high-strength steel, and its occupant safety cage helps keep everyone inside safe in the event of an accident.