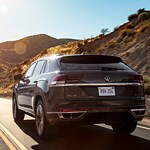 SUVs are very popular vehicles today. They're popularity stems from their great performance, spacious interiors, and safety features. The 2022 Volkswagen offers all this and more. This midsize SUV can not only seat up to seven passengers but also offers unbelievable capability features.
One of the most popular features of the 2022 Volkswagen Atlas is the 4MOTION® with Active Control technology. Depending on where you live, you may be commuting in various driving conditions. All you do is turn a dial and you can use the specific AWD mode that best meets your driving conditions.
It also adjusts how fast you accelerate, which is very useful in snow. The Atlas's suspension system is designed to handle bumpy roads very well. Whether it's rain, snow, ice, or a rocky terrain, the Atlas will always do its job in the necessary setting. The Volkswagen Atlas also has excellent towing capabilities.