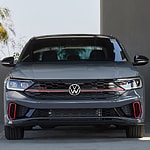 The 2022 Jetta will likely amaze you from the moment you sit behind the wheel thanks to its attractive look, sporty performance, spacious cabin, and cutting-edge amenities.
The roomy, bright interior of the 2022 VW Jetta & the practical cabin layout is guaranteed to win you over. The Jetta has room for five passengers and a spacious trunk with a 14.1 Cu.ft cargo room. The back 60/40-split seats can be folded to increase the trunk's capacity.
The 2022 Volkswagen Jetta has six airbags. After the airbag sensors detect an initial accident, the automated post-collision braking system automatically applies the brakes. It lessens the potential for further injury and the remaining kinetic energy.
The 2022 Jetta can raise your level of alertness and self-assurance when driving. Several advanced functions are offered, such as adaptive cruise control, pedestrian tracking, and blind spot monitoring. Additionally, the new 1.5l turbo-four-cylinder engine for the 2022 Jetta has added much power to the Jetta lineup. With 158 horsepower and 184 lb-ft of torque, the car can easily transport you through Santa Maria.